JBG? - Time for Action Exhibition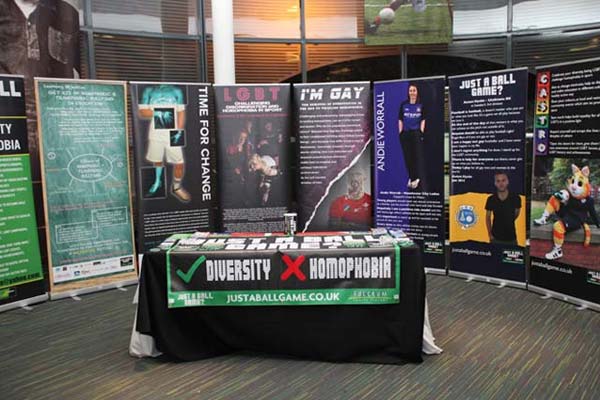 The project was initiated as an outcome of a consultation meeting to discuss homophobia in sport and raising awareness of LGBT issues and inclusion. At the conclusion it was suggested that the LGBT population is a major distinctive community, and it would therefore be good to have it represented in some meaningful way.
Whether gay or heterosexual, it is not enough to passively absorb awareness of the many cruel and psychologically disturbing acts of homophobic bullying – this is a recipe for depression or worse. What is required to effect real change and release from such a vicious circle is that the sources of homophobia be fully identified, recognised, and seen for what they are: that those who in consequence are influenced by them and cause so much harm, are also seen for what they are – incomplete and easily influenced people.
Just a Ball Game? anti-discrimination in sport partnership campaign initiative "TIME FOR ACTION" Exhibition which looks at homophobia and other issues faced by Lesbian Gay Bisexual and Transgender (LGBT) people who participate in varying ways in football and other sports is proud to be a supporter and delivery partner for the ANTI-HOMOPHOBIA IN SPORT EXHIBITION project.
Sport as a whole at present only touches on diversity and inclusion for those who identify as LGBT, and although a number of LGBT people are involved in sport at grass roots level are 'out' to family, friends, team mates and club officials, those who participate at elite level and are 'out' publicly are few and far between.
Founding director of Just A Ball Game? Lindsay England says: "We hope to make use of the wonderful and dynamic exhibition as part of our on-going campaign work to raise awareness around homophobia and help mainstream sport to be more inclusive of a number of diversity issues and help create a safe space for both LGBT people and those who are perceived to be 'lgbt' to achieve their potential.
The education element of this exhibition encourages an understanding of issued faced by LGBT people and at the same time highlights role models for a younger generation to aspire too. We at Just A Ball Game? would like to thank Alan Mercel-Sanca and the final year students of Bournemouth and Poole College for their inspiring efforts in the creation of these panels included in our 'TIME FOR ACTION' exhibition."
Anti-homophobia educational partnership with Just a Ball Game? organisation:
We are delighted to announce that the Olympics Legacy Anti-homophobia in Sport Exhibition Project [AHS], TIME FOR CHANGE-NOW! has developed an educational partnership with Lindsay England's Just a Ball Game? Organisation and that our panels feature in the "TIME FOR ACTION" Exhibition.
JBG? through Lindsay have for over 13 years been at the forefront of anti-homophobia in football and sport in the UK, pioneering work in this field in direct partnership with the TUC, and national and European football and sports governing bodies and professional associations, and a number of lgbt friendly grass roots teams and lgbt groups. It is particularly welcome to be working directly with Lindsay England at this time, with a major expansion of the JBG? organisation taking place.
Through the collaborative partnership with Lindsay England and JBG? an exceptional opportunity has been provided for the anti-homophobia educational resources of the AHS project to reach many people as an on going legacy resource.
We are really delighted about and appreciative of this on behalf of the many individuals and representatives of the AHS exhibition project supporting and partnering organisations that gave so much time, care and enthusiastic input to create the project's articles and graphic designs.