Out, Proud and Kicking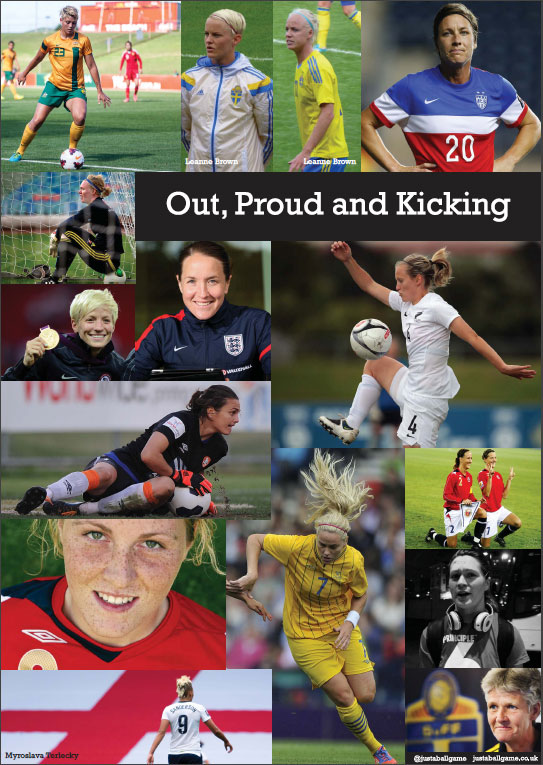 It seems like stigma and prejudice around women playing football has been around forever as the sport fails annually in delivering on Equality, Inclusion and Diversity.
The 2015 Women's World Cup in Canada showcased elite players from across the globe, many of whom in the competition for the first time were paid a wage (of sorts) to train and compete professionally.
While the men's professional game has been reluctant to be fully inclusive and supportive of anyone within the game who identifies as LGBT+ its generally regarded that football is much more accepting of women who are lesbian, bisexual, trans/other or any gender identity. But exactly how true is this?
With society in general a little more accepting of homosexuality these days, players are out to team mates, coaches and managers in numbers compared to say 7-10 years ago. But still very few playing at the highest level are out and proud publicly where they can be seen as much needed role models for young people to look up to and aspire too.
Asking why this is, we at Just A Ball Game? (JBG?) have been given a number of reasons. Some state it's a non-issue, some are 'out' to their team but not to family members or friends, some are not out to work colleagues, some still fear being vocal about sexuality will affect endorsements or chances of being selected for team or country. Others quiet simply want to keep their private life just so, and others see a need to protect partners or family from bigotry or abuse.
In celebration of those women's players who have spoken to the media openly about their sexuality prior to the FIFA Women's World Cup 2015, here at JBG? we produced a double sided poster of 14 players and a coach who featured for their International sides in the tournament in Canada, all of whom are OUT, PROUD and KICKING.
Coach:
Pia Sundhage-Sweden:

A former Sweden International Pia told the media, "There has been no problem for me to be openly gay as head coach in the USA team." She went on to say that she and her partner received a solid welcome in the U.S. "If people ask me about it", I answer "Yes I'm gay and that's how it is. I've never come across any trouble for it as a coach in the United States or anywhere. It was tough when I was twenty-years-old in Sweden, but even then I didn't care. This is me. Take it or leave it."
Players:
Nadine Angerer-Germany:
Nadine was quoted with this line when the DBF announced it was sending a pro-gay leaflet to all 26k clubs in Germany, "I want to tell you to come out, please. It's really important we respect ourselves."

Erin McLeod-Canada:
The Houston Dash keepers relationship with Ella Masar was very openly announced in a heartfelt blog story by Ella, and there is lots of love between them on social media.

Casey Stoney-England:
Arsenal defender Casey and long term girlfriend and former team mate Megan Harris have baby twins together.

Lianne Sanderson-England:
Arsenal and former Boston Breakers striker Lianne has always been very honest around her personal life while playing in the UK and US and has spoken about how great it is to be yourself and open to fans who meet her after games.

Abby Wambach-USA:
Team captain and all time record goal scorer for the USA Abby married former player (and Athlete Ally) Sarah Huffman in Hawaii 2013.

Megan Rapinoe-USA:
Megan 'came out' in the media prior to playing in the 2012 London Olympic Games stating:
"I just felt like I was leaving something out and omitting something and not being 100 percent truthful. Even though I never lied about anything. The world is sort of presumably straight, so I think I wasn't wanting to be assumed [to be straight] or have people believe that. I'm obviously very proud of who I am. I couldn't be happier with who I am. It was something that was important to me."
As well as a footballer Megan is an advocate for a number of LGBT organisations.

Caroline Seger-Sweden:
Caroline as a 17 year old felt ashamed to be lesbian and tried to hide her relationships. Today she speaks out about it helping other young LGBT's who may struggle with their sexuality.

Hedvig Lindahl-Sweden:
The Chelsea keeper openly speaks about her girlfriend and son in interviews for the media.

Katie Duncan-New Zealand:
Recently married her girlfriend (former New Zealand player Priscilla Duncan) and now plays in Switzerland to be with her new bride who works in Zurich.

Isabell Herlovsen-Norway:
She came out as a teenager saying it felt very natural to her and wanted to be true to herself, her family and friends have been supportive and she thinks it's important to be open publicly.

Trine Ronning-Norway:
The 29-year-old defender made her debut on the national team in 1999. In 2009 she became team vice-captain. In January 2009, she married teammate Kristin Blystad Bjerke shortly after same-sex marriage became legal in Norway.

Nilla Fischer-Sweden:
Married her girlfriend Maria Michaela in 2013, she was named 'gay of the year 2014' in Sweden and is an official ambassador for the Stockholm EuroGames in 2015.

Lisa Dahlkvist-Sweden:
Team mate of Seger, Lindahl and Fischer Lisa who came out publicly back in 2008

Michelle Heyman-Australia:
Michelle another athlete whose quite open with her personal life on social media and says she really has never been in the closet and there was no real big revelation. It's a non-issue for her, for her team mates. It's a non-story.