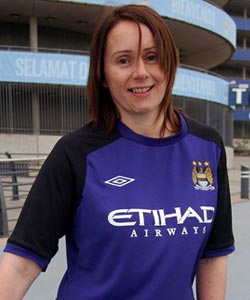 "It's something I have close to my heart, something I have thought about for a while, now, it's a big step to take. I'm not sure if others will follow the same path, but, I hope that I can inspire young people and show that being a lesbian and playing at the top level in women's football is not detriment to the career path you can carve out for yourself. When you think about it around three quarters of women who play the game identify as being LGBT."
These words have been spoken by Manchester City Ladies FC goalkeeper Andie Worrall who will become Just A Ball Game?'s first LGBT elite football role model.
Andie's football career started as a youngster at Tameside MBC, she has also pulled on the number 1 jersey for Stockport girls/ladies and then County, Everton, Liverpool (2stints) Leeds, and is currently in her third spell with MCLFC.
As a 21 year old Andie was invited to be part of an England Ladies training camp, but a lack of confidence in her own ability in an experienced England squad saw her instead accept a call from Wales (she qualifies through grand-parents) where she earned 6 International Caps. The final time between the sticks was a proud moment as Captain.
Re-joining MCLFC only 3 months ago due to an injury within the team now sees Andie back with the club she loves and supports. Alongside of this she now has found time to sign up with JBG? where she hopes to inspire others who have a passion for playing the game, and that there is now a growing support network out there for others to take the opportunity to follow their own aspirations.
Worrall says: "For me growing up and not seeing any lesbian representation in the sport I love was hard for me, so I am hoping to become that person a younger generation can look up too. Knowing if they work hard at their game and also choose to be brave enough to be open about their sexuality they can achieve so much more with that network of support."
Clarke Carlisle Chairman of the PFA added: "I am absolutely delighted to see such a wonderful ambassador for the Women's game come on board with JBG? Andrea (Andie) is a highly commended and respected player. Her distinguished career is a shining example to all of what can be achieved on the pitch. Her presence in this initiative will hopefully help show what can be achieved off the pitch too."
Manchester City had this comment to add also.
"Manchester City FC are committed to promoting equality of opportunity, diversity and respect across all its activities. The Club support Manchester City Ladies in all they do to raise the profile of women's sport and encourage participation for all."