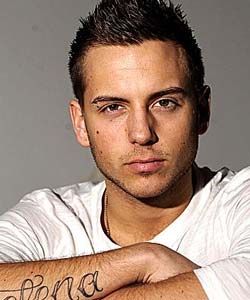 ANTON HYSEN joins JUST A BALL GAME? as Patron and Role Model.-MEDIA RELEASE.
Today we at Just A Ball Game? are very excited to announce that Liverpool born and current Swedish 3rd division player Anton Hysen has agreed to team up with our campaign and activist organisation as a Patron and Role Model.
The out and proud gay man announced himself on the scene back in March 2011 when he gave an interview to Sweden's Football magazine' Offside' and became only the 2nd player in football history still playing the game to talk of his sexuality publicly. He immediately asked questions like, "Where is everyone else?" continuing "I am sure of who I am, I was born this way, I have nothing to hide." He stated that, "Mostly everyone around me is really positive, I am hopeful this will mean others can do the same." On his announcement team mate Niklas Tidshoard says" It should not be an issue but it is, it's been tough for Anton,half of the team knew before,but the dressing room is a very hard place, there are many jokes about playing like a man."
Anton said "I am very happy to be a role model for young LGBT people through becoming a Patron of Just a Ball Game?
Speaking of the news fellow JBG? Patron and former Sunderland FC player Kieron Brady said, " As a Patron of Just a Ball Game I would like to extend a warm welcome to Anton. With his profile being raised in these shores it will hopefully act as a catalyst to all relevant parties to stop trying to suppress this abnormality that sees us with so many male professional players but none who are openly Gay or Bi-sexual."
With Anton joining the JBG? team we now have 2 current playing LGBT people as our Patrons and Role Models,said Lindsay England,the other being Manchester City Ladies and former Wales International goalkeeper Andie (Andrea) Worrall.
Speaking this week Anton says, "At the end of the day, all that matters is what you can achieve on the pitch,not outside of it! Anyone can play regardless of if you are gay."