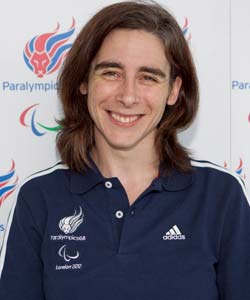 Claire Harvey is captain of GB Paralympic Sitting Volleyball Team.
Claire became paralysed in one leg after an accident in 2008, following this is when she then discovered Paralympic sports. A Cambridge graduate, out lesbian Claire has earned over 40 caps for Great Britain.
Claire says that the accident meant having to re think lots of things in her life. She thought sport for her had been lost forever, mainly because she had not had any experience of disability sport. A year after the cycling accident she was convinced to go to a Paralympic sports day and to try out different things.
On coming out Claire says "I was quite young, about 15 when I went through a period when I wasn't sure, mainly because I was trying to be what I thought lesbians were (at that time seen to be very butch with short hair) rather than be comfortable with who I am as a person and see my sexuality as just one part of that. I took a lot of negativity at school, from both teachers and pupils alike for being so open about being gay. Of course once I got into elite sport I had to think about whether to come out all over again, which was an odd place to be after so many years."
Being a Paralympic team captain throws you into the media spotlight.
That's the reality and there is nowhere to hide from it. I have to accept that, and then it's about how you use it. I truly believe it should be everyone's choice what they do and don't share about their private lives with the media. If being out makes people uncomfortable then it isn't for them. For those of us that are ok with it, providing positive role models for young people and proving to the general public that the LGBT community is as diverse as any other and we don't all live up to stereotypes is a positive thing."
The JUST A BALL GAME? team are delighted to have Claire on board as a patron and as an individual who follows the organisations ethos in wanting to ensure there is a strong legacy of sport, inclusivity and participation, and wants to use their position as an elite athlete to help make a difference.