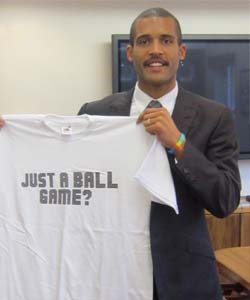 Clarke James Carlisle (born 14 October 1979) is an ex-English footballer who has played for nine different teams as a defender. Born in Preston, he began playing football at a young age, taking inspiration from his father who played semi-professionally.
Carlisle represented his home county of Lancashire at youth level. The start of his professional career was his Football League debut for Blackpool in September 1997. He went on to play 93 league games for the club. Carlisle won three caps for the England under-21 national team.
He attended Balshaw's CE High School where he attained 10 A-grades at GCSE and studied mathematics and politics at A-level, and in 2002 was awarded the title of "Britain's Brainiest Footballer" in a TV game show. He is an ambassador for the Kick It Out campaign and was Chairman of the Management Committee of the Professional Footballers' Association which works improve and protect the rights and status of professional football players.
Carlisle was among those who criticised FIFA president Sepp Blatter following his comments in November 2011 that racism was no longer a problem in football.In February 2012, he was part of a PFA delegation that met with British Prime Minister David Cameron to discuss the issues of racism and homophobia in the sport.
Carlisle has a degree in Professional Sports Writing and Broadcasting from Staffordshire University, and has also considered taking up teaching work.