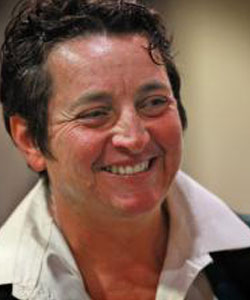 Hi folks here is World Outgames 2013 Gold Medal Winning and South African Champion Archer, and our new patron Karen Hultzer.
She competed in the individual event at the 2012 Summer Olympics. During that event event, she came out. She stated: 'I am an archer, middle aged and a lesbian. I am also cranky before my first cup of coffee.'
'None of these aspects define who I am, they are simply part of me.'
'I am fortunate that my sexual identity is not an issue, and I don't suffer the level of discrimination and violence that black lesbians in South Africa do. I look forward to the day when this is a non-issue and as relevant as my eye color or favorite sushi.'
Hultzer is one of only a handful of openly LGBT Olympians competing this summer – and the only archer.
She is also only the second South African Summer Olympian to come out in history, following beach volleyballer Leigh-Ann Naidoo in 2004.
Karen was born 16 September 1965 in Cape Town, South Africa.
For more on Karen Hultzer visit her blog
Visit Karens Facebook page by clicking here.