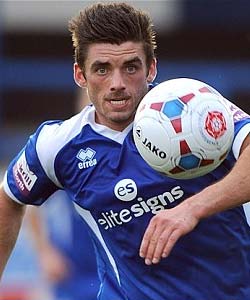 Liam Davis came out while playing for Gainsborough Trinity FC in the Conference North.
He is the highest current semi-professional player in the UK to be 'out and proud.' Liam is also happy to be one of our JUST A BALL GAME? patrons.
Quotes from Liam: " I reached the stage in my life where I had no reason to hide who i was. I hope my story will help others feel more comfortable about coming out." "Maybe we are getting to the point where there is enough acceptance of the issue for someone to come out while playing. That's the moment when others can follow."
Gainsborough Trinity winger Liam Davis hopes that coming out as a gay footballer will make others feel confident to do the same. The 23-year-old was talking after news that former German international and Aston Villa star Thomas Hitzlsperger revealed he was gay following his retirement from the game.
Davis said, aside from himself, he is unaware of any other footballers currently playing who are gay, but hopes that more feel comfortable to follow in his footsteps before his own career is over. "There is none that I know of," said Davis. "I thought about it the other day, they believe that five percent of the population is gay, so if you halve that for gender, that means there is 2.5 per cent gay men Davis has always been able to count on the support of friends and family since coming out in 2009.
However, he admitted that not since joining Trinity last summer has he been able to talk fully about being a gay footballer. "I came out to my family and friends first. I did not even think about football. I didn't think about hiding it though, because there is nothing to hide," said Davis. "Coming out was the right thing for me to do. If people didn't accept it, then I would deal with it. You know you would get support from your family and friends, because that is human nature.
"I was at Selby at the time I came out, playing very low down in the football league pyramid. I did not bring it up. Nobody sat down and spoke about it, nobody bothered with it, or took an interest in it. "After Selby I moved to Brigg. There was a lot more banter in the dressing room there. The lads knew and there were jokes, but at no point did it cross the line. "There was nothing malicious ever said and it was a good place as there was a few of my old youth team mates from Grimsby there who knew me.
"I joined Gainsborough in the summer and I kept myself to myself. It was on a team night out in Sheffield that the question was asked. "The goalkeeper Phil Barnes brought it up with me at the bar. I don't know if it was a bit of Dutch courage that made me talk about it, but I think the way Phil asked helped as well. He did it in a jokey way which broke the ice and that was good. "I didn't know if people knew. I had intended to just get on with playing football. There had been questions like, 'have you got a girlfriend', and I'd just say 'no', because it was the truth, so I had a suspicion that they might have an idea. Then it turned out they all knew from the first day I was at training. "That is the one thing I will say I really enjoy about playing for Gainsborough, is that it is a very close knit group of lads. "Some of them have known each other for years and the others that come in are made to feel welcome, nobody is made to feel an outcast."